John Wilkinson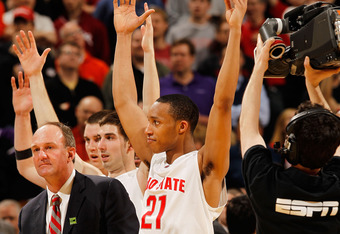 El Ohio State wins the Big Ten Tournament in resounding fashion, 90-61 over Minnesota.
This is the Buckeyes first tourney title since '07, when they rode old man Oden all the way to the Final Four. Can Evan Turner do the same?
All signs continue to point towards 'yes', as the phenom racked up his second 31-point game in a row, to go with 12 boards and 6 dimes. Fellow guards David Lighty and Jon Diebler pitched in with 20 points and 19 points respectively.
Coming off a 2-OT semifinal thriller, the Buckeyes looked no worse for the wear as their 6-man rotation took a 3 point halftime lead and exploded to a 29 point win. Ohio State has a huge talent advantage over Minnesota, but you rarely see a Tubby Smith coached team A) get blown out, and B) give up 90 points.
Bracketologists and Bracktiatrists alike are scrambling to find the correct prognosis to the Big Ten's malady. Illinois came to Indy with the belief that a win over Wisconsin in the quarters would lock up a bid to the dance, however, it appears they've been hoisted by the Tubster and Minnesota, who battled out of a 6-seed to finish runner-ups.
It's understood the selection committee wants to have the field locked and loaded a couple of hours before the broadcast, so you have to think if the Big Ten is to only get 4 bids, the Illini are NIT bound.