C.M. TOMLIN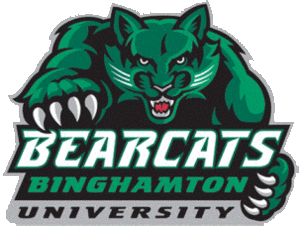 For many teams, the hope of an NCAA Tournament berth is the driving force behind the entire season -- gearing up for a conference tournament championship, the notion of squeaking in quietly as a mid-major with something to prove.
For the Binghamton Bearcats, last year was a season of new life. The program had never been particularly heralded, but the arrival of interim coach Kevin Broadus -- stepping in for head coach Al Walker, the only basketball coach BU had ever known, after a bottom-barrel finish in the America East Conference in 2007 -- seemed promising at the time. Binghamton administration felt that the spiral was over, and a rebirth of their men's basketball was on the horizon.
Little did they know that their spiral was only beginning.
The warning signs began as soon as early 2009, even just before Binghamton's cinderella inclusion into the NCAA Tournament, where they would face strongly but ultimately lose to juggernaut Duke in the first round. A
New York Times article
shed light on some shady goings-on at Binghamton, with adjunct lecturer Sally Dear going on record with the
Times
that Broadus' recruits were disruptive in or absent from class and that she had received pressure from upper management to cut the players some extra slack.
Broadus' recruits were also showing themselves to be less than admirable off-campus, with the reveal that Gonzaga transfer Theo Davis had been charged with marijuana possession in the past and Devon McBride even admitting to the
Times
that the players often drank or smoked marijuana off the court. In May of 2009, Serbian center Miladan Kovacevic
fled back to his home country
after beating a man into a coma in a Binghamton bar after the man danced with the girlfriend of one of Kovacevic's friends. Guard Malik Alvin knocked over a 66 year-old woman and gave her a concussion while fleeing police after stealing condoms from a local Wal-Mart (he was back in the lineup three months later).
Broadus, it was largely believed, took little notice of these indiscretions. After all, Binghamton was dead set on re-creating themselves as a "basketball school." Just before the Bearcats' 2009 season began, starting point guard Tiki Mayben was
arrested and charged
with selling crack cocaine. Shortly afterward, five more Bearcats were dismissed from the team as well, on unknown violations many believe were related to Mayben's moonlighting.
More would come. Sexual harassment charges. Assistant coaches fired over recruiting violations. An athletic director mysteriously reassigned to another part of the University. Broadus placed on indefinite "administrative leave."
On March 1, days before the America East Tournament would begin -- and where Binghamton would defend their conference championship -- the school announced that it would be voluntarily removing itself from the postseason. While the school maintains this is their decision alone, many believe that pressure from fellow league members contributed to the decision.
The NCAA Tournament is one of the most prestigious events in the entire country. It's a badge of honor to be included, and it's a gold mine of free press if an unexpected team -- like 2006's George Mason, for instance -- turns out to be a surprise contender. For Binghamton University, the desire to build a basketball program came at the cost of the entire University's reputation. It associated criminals with the institution. It revealed an administration willing to turn a blind eye to ugliness under the auspice of "rebuilding a program."
If Binghamton truly looked at itself in the mirror and couldn't in good conscience carry on with a season marred by illegality, all we can do is hope that they continue to figure out where they went wrong. If it's true that the Bearcats are sitting out due to pressure, it's difficult to say if anything will change. After all, the desire for winning program and a taste of NCAA Tourney glory is addictive -- and perhaps Binghamton's diagnosis is a March madness of a far, far darker variety.